Here you'll find the patterns for my original Hearts & Pines designs!


Welcome to the shopping page for my original design quilt patterns. If you're looking for something fast, easy, and fun -- try Checker Championship. If you are looking for something that will keep you busy for many hours (and yet not stressed by difficulty), try Snow Crystals -- with over 1,100 pieces in the quilt center! Are story quilts your favorites? Try the Scandinavian designs, Northern Shores Getaway, All Hearts Come Home For Christmas, or Prairie School Sampler.

---
Scandinavian Hearts & Pines Quilt Pattern - Free Shipping!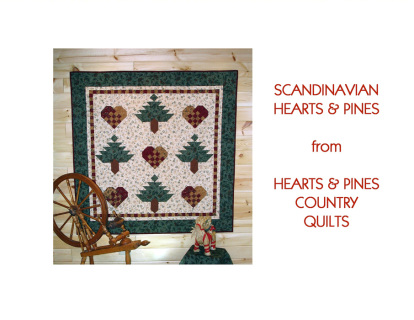 This is where it started! The Scandinavian Hearts & Pines is a beautiful design, blending two blocks that have great significance to me. This quilt features traditional Scandinavian Woven Hearts (claimed by Danes, Norwegians, and Swedes) and gorgeous Norway Pine Trees. The Woven Hearts represent the love and connectedness of family. The Norway Pines symbolize strength and fortitude.

The quilt is set on point with a charming, checked inner border that compliments the Woven Heart centers. Finished block size is 10 inches square and the finished quilt size is 58 inches square.

Included are two fantastic Scandinavian recipes -- Swedish Pineapple Cake and "melt-in-your-mouth" Norwegian Spritz.


Snow Crystals Quilt Pattern - Free Shipping!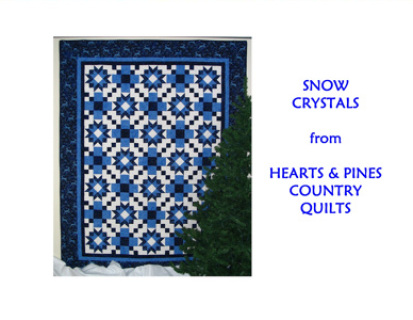 Designed by me during a summer vacation trip to Canada, Snow Crystals is a frosty, crisp design! This twin-sized quilt measures approximately 71" x 92", with a finished block size of 10-1/2". There are only two blocks in this beautiful quilt -- a Four-Patch Chain block and a Snow Crystal block.

Quilters have also created this quilt in patriotic colors of red, white, and blue -- and the results are terrific!

Included are two delicious recipes -- Mocha Snow Slush and Salted Nut Roll Snowballs.

Northern Shores Getaway Pattern - Free Shipping!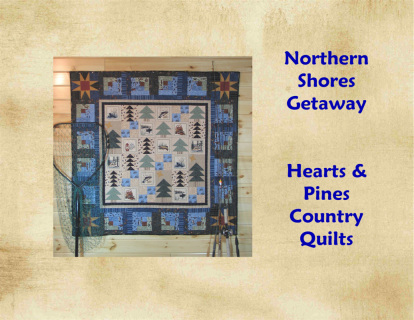 Northern Shores Getaway is a fantastic outdoor-themed quilt pattern. This quilt design features a variety of great blocks in a wonderful design array!

The quilt can be made EXCLUSIVELY with fat quarters and a preprinted panel. You can easily use a beautiful print in place of the panel if you'd rather. It's really a sampler with the following blocks: Log Cabin, Flying Geese, Four-Patch, Young Pines, North Star, and Tall Pines.

The completed quilt is 63" square" -- perfect for a wall or for a NAP! The finished block sizes are 6" for center blocks and 10.5" for the Log Cabin blocks.

Included are two delicious "Getaway" recipes -- Breakfast Casserole and Stuffed Blueberry French Toast.
Forever Love Pattern - Free Shipping!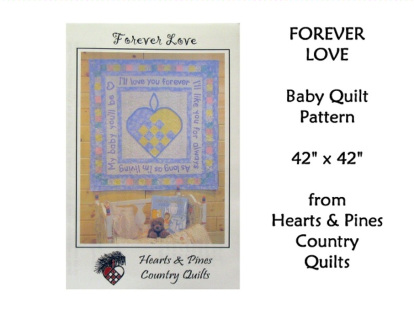 My Forever Love pattern was created with special permission from Robert Munsch, author of the classic "Love You Forever" book. This baby quilt features my all-time favorite block, the Danish Woven Heart, in all its glory as the full center section of the quilt. Surround the heart with fuzzy chenille, and the touch is irresistible!

The verse, "I'll love you forever, I'll like you for always, As long as I'm living, My baby you'll be", is created with applique letters (included in the pattern) which surround the heart.

The heart and the verse are then framed by two narrow borders with a cute checkerboard border sandwiched in between.

The quilt measures 42" x 42".

Checker Championship Pattern - Free Shipping!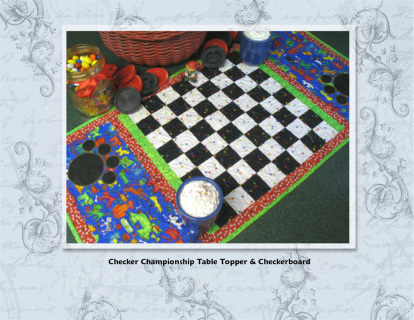 Checker Championship is a "Fun With Fat Quarters" pattern, and it is just as fun to create as it is to use as a REAL checkerboard! The finished size is 18.5" x 36.5". The design features not only the checkerboard itself, but also an area on each end to stack and store captured checker pieces.

The pattern also includes directions to make two Checkers Doggy Bags for storing the red and black pieces. With a velro closure and cat and dog buttons, these little cloth bags are adorable.

Finally, the pattern includes a yummy recipe for Puppy Chow!

Scandinavian Traditions Tree Skirt & Table Topper - Free Shipping!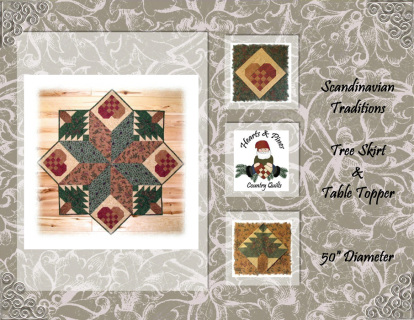 Showcasing the Norway Pine and Danish Woven Heart blocks from my original Scandinavian Hearts & Pines quilt, this beautiful table topper and tree skirt is a nice companion to that first pattern.

This design features a large LeMoyne Star in the center, with the eight feature blocks dancing around the outside points of the star. Scandinavian Traditions Tree Skirt and Table Topper measures 50" in diameter.

Directions are included for making the design into a tree skirt. Also, full-size templates are included for the LeMoyne Star.

My Norwegian mother's treasured recipe for Rosettes is included with this pattern.
Mother's Quilt Pattern - Free Shipping!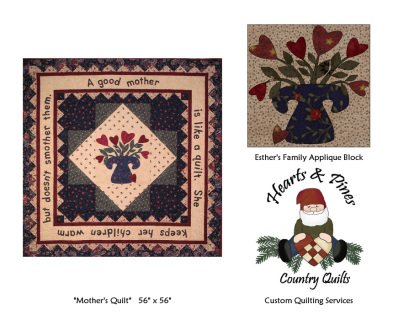 The Mother's Quilt design and message will warm your heart! This quilt is not only for Mother's Day or Mom's birthday. The beautiful little verse is important for EVERY day.

Mother's Quilt measures 56-inches square and features an adorable applique block as the center medallion of the quilt. Can you see that the flower vase is actually a mother's calico print house dress? You can personalize the flowers in the vase, too, by changing the number of flowers to match your number of family members! In addition to instructions in full color, this pattern also includes the applique templates and the alphabet letter templates - both in full size. This is a complete and comprehensive pattern.

There are 80 Flying Geese units in the borders of this quilt, and I recommend Eleanor Burns' Flying Geese rulers (the 2" x 4" size -- available in my eBay store). With her rulers, the Geese are constructed in sets of four, and they turn out PERFECTLY. Mother's Quilt is also "cute as a bug's ear" made with 1930's reproduction fabrics.