Let's see what's popular in the studio this month!


Here's the place to be if you want to see what the buzz is all about in the Hearts & Pines Studio this month. In addition to these several items, we have at least FIFTY items listed in our
Hearts & Pines Country Quilts ebay store
!
---
Anka's Treasures -- Shams with Style -- Heather Mulder Peterson & Deb Mulder - FREE Shipping!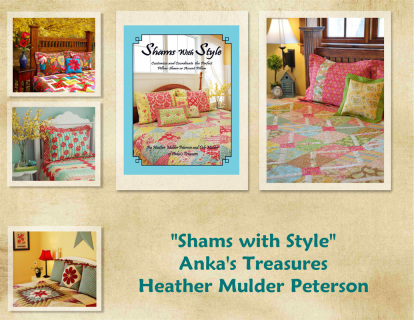 Heather Mulder Peterson's new book, Shams with Style, will help you add the final, beautiful touches to all of your quilting masterpieces. Customize and coordinate the perfect pillow shams or accent pillows!

The "Shams With Style" book contains three basic pillow sham patterns and each has many size and decorative accent options. The three basic options are:

The Flange Pillow The Bound with Ties Sham The Bound Pillow Sham

Just to give you an example of what the options are: the Flange Pillow comes in 10 sizes (to fit standard pillow forms) and the decorative accent options include contrasting flanges, scalloped flanges, four decorative insert options, and an applique option. Simple techniques are used throughout the book to make for fast, easy constructions. For instance, chunky binding creates the look of piping, but is much easier than making and adding piping. Added details like rick rack and covered buttons add big style with minimal effort.

Soft cover, full color, templates included. Click to enlarge. Retail is $15.00. Our price is $14.00 and includes FREE shipping in the USA!
Art to Heart - Nancy Halvorsen - Curiosities & Mischief -- FREE Shipping!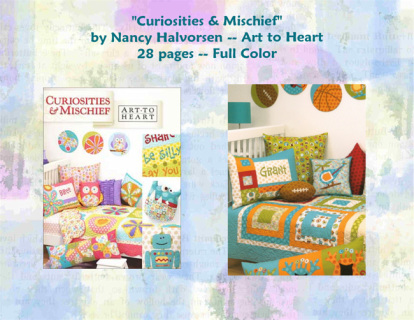 This whimsical new collection from Nancy Halvorsen is sure to delight! Curiosities & Mischief has crazy robots, bugs, birds, and other critters are full of charm for any child's room.

This book includes 16 terrific projects -- with the cutest nap mats you've ever seen! There are pillows, a growth chart, bed quilts, wall hanging, and much more! Full-sized applique templates included.

Retail price is $19.00. Our price is $18.00 and includes FREE shipping in the USA!

Click on the image to enlarge.

Eleanor Burns - Quilt In A Day - Tales of First Ladies - FREE Shipping!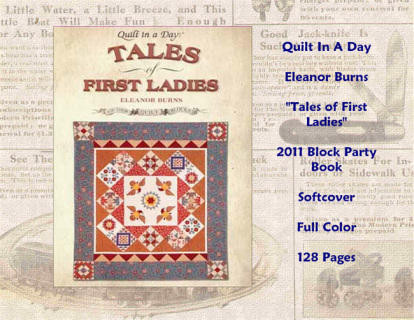 Eleanor Burns' latest block party comes to life in this new sampler quilt book, Tales of First Ladies and Their Quilt Blocks. Eight traditional block patterns in both 12" and 6" sizes pay tribute to women who have earned their place in history. This book offers an alternate modular center for the eagle. Learn multiple techniques for Eleanor's favorite blocks named after admirable women as well as interesting tidbits of each of their lives. Eleanor frames the quilt with a large flying geese border.

This soft-cover, 128 page book has full color instructions, as well as additional projects!

Patterns included: White House, Lady of the White House; Martha Washington, Martha Washington Wreath; Lucy W. Hayes. Double T Block;
Frances Folsom Cleveland,Mrs. Cleveland's Choice; Dolley Payne Todd Madison, Dolley Madison Star; Anna Harrison, Harrison Rose;
Eleanor Roosevelt, Mrs. Roosevelt's Favorite; Mary Todd Lincoln, Lincoln Block; Union Quilt, Eagle Center; Alternate Center.

The retail price is $24.95. Our price is $22.95 AND includes FREE shipping in the USA! Click on the image to enlarge.

Thimbleberries Autumn Flare Quilts Booklet - FREE Shipping!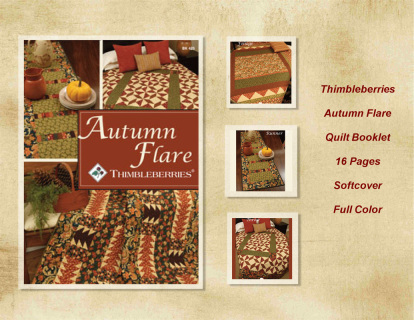 It's easy to see that Lynette Jensen's favorite season is autumn! The gorgeous designs and color palette in this book trumpet the golden colors of the fall season. There are beautiful throws and a runner which welcome this season showcasing natures hues.

This 16-page booklet is full of wonderful projects to warm your home! Softcover, full color, and FREE Shipping in the USA! Click on the image to enlarge.

Thimbleberries Club 2012 - First Quarter Fat Quarters - FREE Shipping!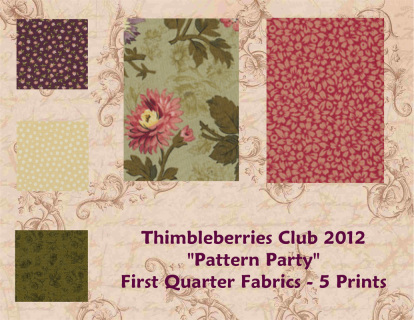 For Thimbleberries enthusiasts, this sweet little bundle includes the five fabrics from the first quarter of 2012, including a signature floral with green background, a creamy tonal dot, a warm green leafy tonal, a low contrast rosy pink, and a deep plum pink small floral.

The new Thimbleberries fabric collection, Pattern Party, celebrates all the seasons, month by month, with the classic beauty of Thimbleberries prints. This year's grouping of TBerries Club fabrics spotlights Thimbleberries at its best! This mini fat quarter bundle includes FREE shipping in the USA.

.





Count On It - Art to Heart Book - with Ackfeld's Meander Iron Hanger - FREE Shipping!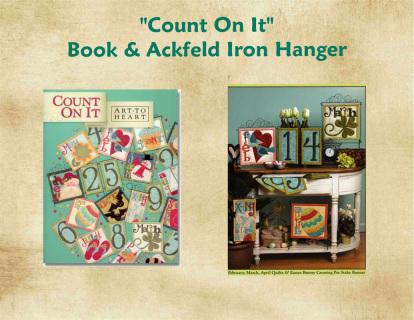 Nancy Halvorson's "Count On It" book and Ackfeld's Meander Iron Hanger is our most popular "dynamic duo" as of late, and it's easy to see why!

You'll have year 'round fun making these delightful and whimsical mini-quilts and calendar dates AND you'll have even more fun displaying them as you watch the days and months go by in your home with your family, in school with your students, or at the office with your colleagues.

The Ackfeld Meander Iron Hanger has a place for the 11-1/2" square monthly mini-quilts and two smaller places for the 6-1/2" x 11-1/2" number quilts. The Ackfeld Hanger will stand on a shelf, counter, or table, adorning whichever place of honor you choose.

The set retails for $41.00, but our price is lower AND includes FREE shipping in the US.

Block Scramble - Thimbleberries Pattern - FREE Shipping!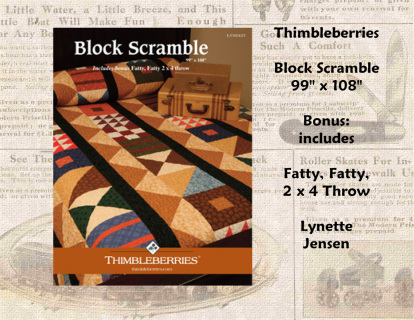 Our best selling pattern is Lynette Jensen's Block Scramble! I suspect many quilters are looking for a great project to create which will make use of last year's stash and scraps. This design is a winner! Six different blocks make up this queen quilt. . Big blocks, traditional piecing, and the quality directions that have made Thimbleberries famous. The finished size of Block Scramble is approximately 99" x 108", a queen-size quilt.
Wait! There's more! Included in this pattern are the directions for another quilt that will gather even more stash and scraps! It's the Thimbleberries design called Fatty, Fatty, 2 x 4. This design is smaller than Block Scramble, with a finished throw size of 60" x 72".
If you are interested in a kit for this pattern (either Block Scramble and/or Fatty, Fatty, 2 x ) that is bursting with beautiful Thimbleberries fabrics, just let me know. We can customize the kits for you if you tell us two dominant colors that you would prefer. Contact us with your questions and colors!
Lake Country: Greetings From Minnesota - Thimbleberries Quilt Kit - FREE Shipping!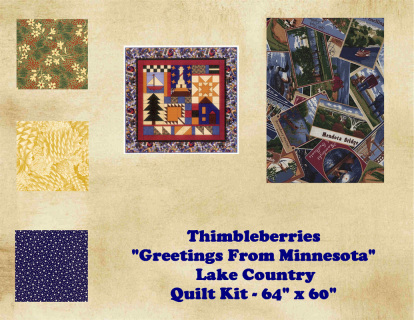 This is a perfect pattern for those of you whose hearts and minds are near oceans, lakes, rivers, and vacation homes. Maybe you know of someone who would love this charming quilt.

The "Lake Country - Greetings From Minnesota" kit contains the Greetings From Minnesota fabrics called for in the fabric requirements in the Thimbleberries pattern booklet. They are beautiful! The finished size of this quilt is 64" x 60" -- a perfect wall or lap quilt!

There are almost nine yards of fabric in the kit -- enough for the quilt top and the binding.The kit includes the Thimbleberries pattern booklet, "Lake Country". It's a full-color 14-page booklet filled to the brim with several fantastic projects.

Beside the Greetings From Minnesota pattern (shown above), the booklet also contains a second coloration option for the quilt, PLUS four other patterns (a table runner and three small wall quilts).

Limited Quantity Available