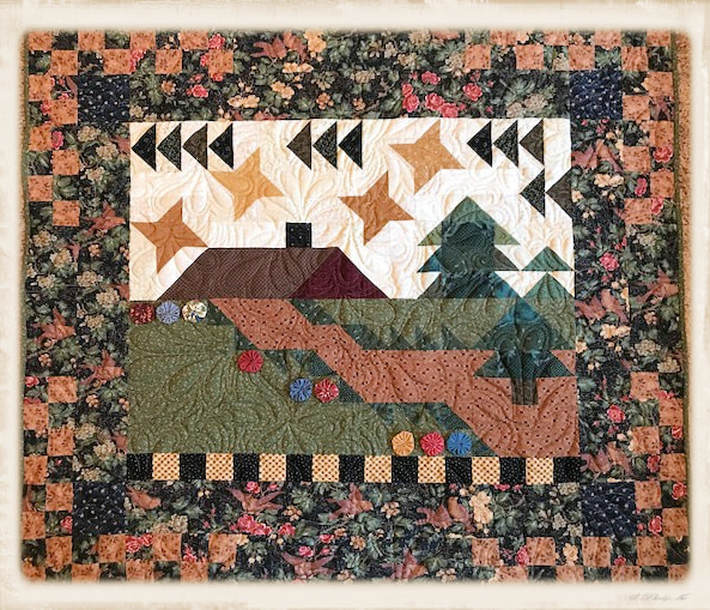 Here is the quilt I told you about last week..."The Road Home" by Lynette Jensen of Thimbleberries. This is one of her early patterns; I think it's from 1994. I just love it! I enlarged the original size given in the pattern so it would fill my wall space a little more effectively. The pattern calls for finished squares of 1.5 inches, and I increased my block size to 2 inches so the finished size of my quilt is 50" wide by 44" high.
I also decided to make the Flying Geese (my husband calls them crows) with a single black print for each unit instead of splitting it as shown in the original pattern. I use Eleanor Burns' Flying Geese Rulers because I think they make the most perfect geese I can conjure up!
The other little modification I made was to leave out some of the yo-yo flowers. I just want wanted more grass and fewer flowers for my quilt. I used Clover's nifty "Quick Yo-Yo Maker"; it works like a dream.
The fabrics in this quilt include about a twenty-year span of Thimbleberries prints! Can you believe it? I love the border print -- it's the signature floral and bird fabric from Club 2008 -- Lodge and Lakeside -- and this is the Lodge coloration print.
So, now what? This week, I'm repainting and sponging the wall that will be home to this quilt. I can hardly wait to hang it up!

P.S. Chrissy, our sweetie cat, can find a new quilt to try out faster than greased lightning!