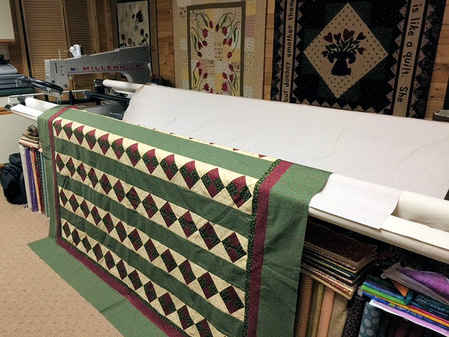 I'm loading a Thimbleberries quilt onto the frame tonight...the colors are so deep and vibrant! I'd planned to quilt an all-over design on it, but decided it really needs to be custom quilted. It'll be perfect with some leafy vines in the long green sashing strips and continuous curves in the four patch blocks! This quilt belongs to Dolores, and she always does fantastic piecing work...and always big quilts! It's going to be fun...I'll post a photo in a few days when I'm finished with the quilting.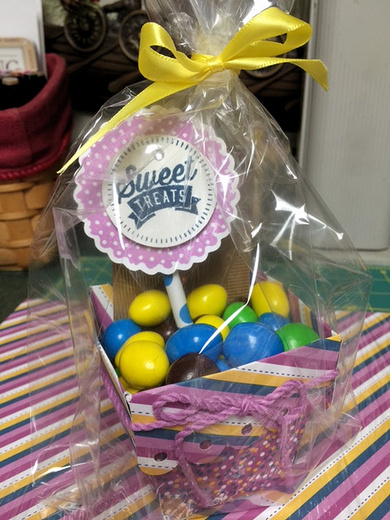 I had some minutes for paper fun in the studio earlier this weekend, too...here's a yummy spring flower pot for a special friend who is celebrating her birthday tomorrow.
This was lots of fun, and I used all Close to My Heart materials in the construction. The paper is from the Confetti Wishes collection, the planter is cut with the Cricut CTMH Artiste cartridge, the stamps are from Perfect Fit Frames and Sweet Salutations, and both the wavy flower and the circle center were cut from Cricut CTMH Art Philosophy. There's a Starbucks Coffee card tucked into the M&Ms dirt.
I love using my Cricut Expression machine with the CTMH cartridges, but I sure do wish I had the newer Cricut Explore! The Explore will do both the cutting and the scoring, which would be nice. Scoring by hand can get tricky sometimes (with eyes that are getting a little farsighted). It must be something to do with age...
You can shop for Close to My Heart supplies on my CTMH website...just click on the link to the right. Let me know if you have questions. Have fun!