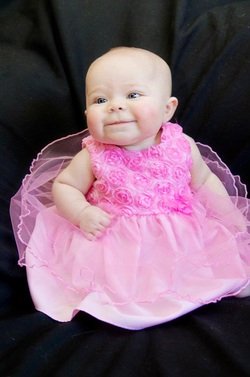 I've always loved fresh starts, and the beginning of a new year is the ultimate! I have my new Mary Engelbreit 2012 engagement calendar and my new Lang wall calendar with artwork by Susan Winget. I am ready! The new Thimbleberries Club is starting and more fabric is on the way, I am actually ON SCHEDULE with the longarm calendar (a rare event that doesn't happen often), and I'm ready to get back to quilting after the intensity of Christmastime. It was the best Christmas I can remember ... reason number one? Our first grandchild, Chelsea Elizabeth.

We had such a wonderful time with this little Virginia Peanut (we call her "The VP") over Christmastime. It was hard to say goodbye when it was time for us to head back to Minnesota. We'll see her again, though, in less than two months, and we are counting the days, as you might imagine!

I brought a gorgeous new quilt to Chelsea's mom and dad (our middle son and his wife) for Christmas -- a king-sized "Quick Trip" (Eleanor Burns) with beautiful fabrics by Holly Taylor for Moda. Deep reds, greens, purples, taupes, beiges, and blacks -- fun to make, and a pleasure to give!